Social media is continuously growing and evolving with more and more users and new platforms are being created. One social media platform which is growing in huge popularity is Instagram. Instagram has over 800 million active users so with its reach and popularity it is the perfect tool to advertise on and to showcase your business and its offerings. Here are 3 benefits of advertising on Instagram.
1: Increased Brand Awareness
Implementing a social media strategy which utilises the Instagram advertising platform will greatly increase your brand recognition as you will be able to engage with a large and diverse audience of potential consumers through ads. Get employees, customers, and any other stakeholders to "follow" your page. Simply having a big following of people connected with your profile gives the greater opportunity to get engagement and to be seen by others who are not connected with your business's Instagram profile. People interacting with your content will increase brand awareness and begin building your reputation as a brand. Each post that is shared, each comment that is made and each like that is given will introduce your brand and your brands content to a new network of individuals. This activity & added exposure can lead to new followers of your brand and essentially new potential customers. The aim is to get as many people as possible knowing about your business. People will become aware of your business through the use of Instagram ads and have an affiliation with your brand through them. They may not use your services the minute they discover you or see your ad but have a great chance of buying with you when they require your products/services.
2: Better Customer Satisfaction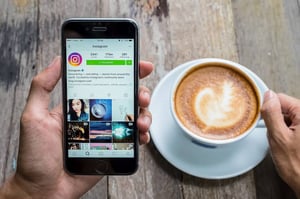 Instagram is a networking and communication platform. It is important to create a voice through your content and engagement on this platform because it will give your brand a unique identity.There is no better way to do that than through the use of Instagram ads showcasing your thoughts, ideas and offerings. Customers value receiving a personal response from a company when they comment on a business's profile regarding a particular issue, they don't like to be ignored or receive an automated response. People want to feel like they are cared about and that they are not just a sale statistic, there is no better way to tackle this than through engaging with them on Instagram.Being empathetic and aiming to provide the best experience to a customer will lead to better customer satisfaction.
A company which is devoted to customer satisfaction that takes the time to compose personal messages and shows that they care about the customer will inherently be viewed in a positive light, even if it is responding to a negative complaint/issue relating to the brand.Instagram is not just limited to introducing your brand's products and promotional campaigns. Instagram is seen as a service channel by existing or potential customers where they can communicate directly with the business.
3: Targeting
Given Instagram's mega-sized user following (with over 800 million and growing) and broad networking capabilities, Instagram is so much more than a conventional social media platform. Instagram is an essential tool for growing a business and increasing leads for sales through effectively constructed marketing efforts.Advertising through Instagram is as important as local advertising and SEO. It can introduce your brand to boundless audiences and specifically targeted groups based on different demographics, interests of users, consumer behaviours and even where they are located.
Ad targeting allows you to put your ads in front of the right people.Instagram makes it easy for brands to create and distribute these ads to interested/specific users based on company goals, focus and intent.Targeted Instagram advertising is an excellent way for companies to get the most out of objective-based marketing campaigns.
Book a consultation with us today by visiting us online or call us on 021 234 8038 to find out more information.