People are consuming more content than ever before from more mediums and devices With all that content, attention spans are diminishing. Information overload is a real problem for online users so content creators need to keep this in mind. Everyone wants to get their message out there to their target audience but users simply cannot consume every post, and every piece of content that comes before them, they don't have the time so it is not possible. Therefore you need to capture their attention immediately and that's where visuals come in. They make your content more appealing and interesting for your audience. Here are our 2 tips to create better visual content for your marketing campaigns.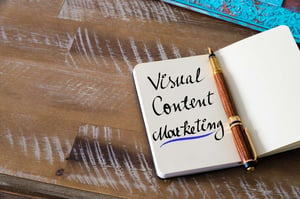 1: Create Infographics
Infographics are a cool way of visually representing information. They help to simplify complicated information and make it more compelling to look at. Infographics help your brand get noticed in news feeds especially on social media. They can contribute significantly to site traffic, backlinks and people sharing on social media. Infographics are 30 x's more likely to get read than a purely textual article. An aesthetically pleasing infographic with relevant information and is user-friendly will definitely help increase brand awareness. Make your infographics stand out to your readers by providing them with benefits/value. Combine images with text and graphic elements to make your content pop and get positive results from an infographic.
2: Incorporate GIFs Into Your Posts
A GIF which is known as a Graphics Interchange Format is a file type for animated and static images. Incorporating GIFs into your posts allow users to engage with your brands content in a quick and easy to consume way. It's tough to capture users' attention these days so GIFs are the perfect way to overcome this problem. On some social platforms, you need to copy the URL of the GIF and paste it in the post whereas others allow for direct uploads. There are a number of reasons why these can be great to put into your posts. GIF's can indicate your business understands internet trends, they are easy to consume, easily shareable on social media, convey particular emotions excellently as well as being able to show a human side of a brand. GIFs are great for helping your content stand out especially from competitors content. Try using them and see if your post engagement figures increase.
The better your visual content, the more likely the reader will remember you and your message. By using some of the tips outlined above you will create better visual content and enhance your content marketing campaigns. To see how we can use design and implement content marketing strategies for your brand to increase your success, visit us online today and book a consultation.